We all want to make a great first impression and be taken seriously whether it is in the workplace, chatting with friends, or communicating with our fans on social media. But how can you come across professionally if you just never quite learned those skills in elementary school? Here at IGNITE Wrestling and on my Woman On Fire columns, I have used "The World's Best Grammar Checker" in order to ensure that I don't make crucial mistakes that destroy my message.
Let's be honest. When I receive emails and pitches for wrestler bookings or writing submissions, I am biased if the spelling is atrocious and the article lacks punctuation. For me personally, it shows a disregard and lack of attention to detail and if you don't care about making a good first impression then I'm worried about how professional you really are.
3 Reasons Why You Should Be Using Grammarly
Grammarly is Free
I totally understand if you don't want to spend the money upgrade to the premium version of Grammarly, but you will definitely benefit from using the free version of Grammarly. For this particular article, I am using the free plan so that Grammarly will check my writing for 100 points of spelling, grammar, and punctuation mistakes.P
Prior to Grammarly, I used both Microsoft Word and Google Docs to check my content for errors, but I've discovered that Grammarly works much better on pointing out the mistakes in my writing. The added bonus of it is that Grammarly explains why you've made a mistake so you can evolve your writing skills and style.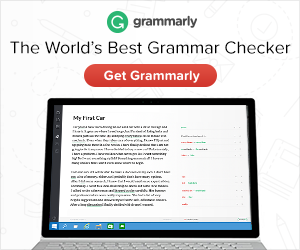 Grammarly is Easy to Use
I've installed the free extension for my Chrome web browser so now no matter what I'm writing, whether it is a blog post, email, magazine article or social media post, I have the added support of Grammarly to keep my spelling correct and my grammar at its best.
Grammarly Helps Enhance Your Vocabulary
If you upgrade to the Vocabulary Enhancement feature you can scan your content for words that you may be unknowingly using too often and it will suggest various replacement words that you can use that have the same meaning.
I know this is not my typical column but it is so vital that you make a great first impression and when you are misspelling basic words while applying for jobs, writing gigs or sales, then you are losing credibility. No business owner wants the added responsibility of now having to edit your work. They would rather hire or work with someone whose work does not need constant correction. Don't be that person. Be the one who communicates clearly and Grammarly can help you do that.
So if you are ready to take your writing to the next level, make that great first impression then you know what you need to do. Check out Grammarly. Until next time, ignite your fire, and follow your dream.